My little trade show – enterprise sales is magic
Being somehow experienced with software development, we are still early in the process of learning how to get pretix to the right customers and turn pretix into a sustainable and profitable project. As one of many experiments on this journey, we presented at a major trade fair for the first time this week. With this blog post, we want to give detailled insight into the process, our decisions and our new experiences. If you are preparing to go on a trade show for the first time, this might give you valuable insight – or just a fun read.
Early planning
Early in 2017, I first learned about the existence of BEST OF EVENTS (from now: BOE), the leading trade show of the German event business. Along with the smaller, more regional LOCATIONS and mbt meetingplace fairs, the BOE immediately appealed to me as a possible way to make pretix more well-known in the industry and get in contact with potential users and customers of pretix. In contrast to the large international trade show of the event and travel business, IMEX, which takes place annualy in Frankfurt as well as in Las Vegas, those smaller trade shows are actually somehow affordable for a small business like ours.
Still, for a company of our size a trade show is a significant investment that I did not decide for lightly. I will go into more detail on the financial aspects further below, but for now let's say that I struggled for a couple of months with this decision. I visited LOCATIONS Stuttgart 2017 and LOCATIONS Frankfurt 2017 as a visitor to talk to exhibitors about their experiences and get a feeling for the people visiting those events. I eventually decided that we will try presenting at both BOE 2018 in Dortmund as well as at the smaller LOCATIONS Rhein-Neckar 2018 in Mannheim (very close to our home) as experiments to see if this form of representation is valuable and worth doing for pretix.
Early in the process, I decided that–for BOE–I will not go for the minimum possible booth size because my experience from visiting trade shows was that a small booth, enclosed by other booths on both sides, is easily missed when walking along quickly. At a typical trade show, there are various types of booths: "In-line booths", which are enclosed in a row of booths next to each other and are open to the corridor only at the front; "corner booths", which are open at two sides to two different corridors; "peninsula booths", which are open at three sides; and "island booths", which are open to the corridor on all four sides.
For pretix at BOE, I decided for the minimal size of booth that is available as a corner booth, which was a booth area of 4×3 meters, or 12 m².
Desiging a booth
Next, I needed to know how to fill this area properly. I asked a long-time friend of mine, Céline, for help with planning and building the pretix booth. Céline is usually designing and building sets for movie projects, which of course is somehow different–but not that far off, in the end. After bouncing ideas about custom-built counters or other complicated setups for weeks, we settled on a plan consisting of purple walls with white half-circles resembling the pretix logo and a modestly equipped booth.
We decided for a large, high table and four simplistic white bar stools as a way to hold both short and longer discussions with visitors of our booth. In the back, we planned a low sideboard to store any supplies that we might need during the two-day trade show. We also added a brochure display stand that we deliberately put in a corner far away from the table, since we wanted to allow visitors to take a brochure even if they want to avoid getting talked to by us. For similar reasons we added a box to the table that had a sign saying "if you want us to send you a single package with information after the trade fair, drop your business card here".
Céline transformed these plans into a 3D rendering which looked like this: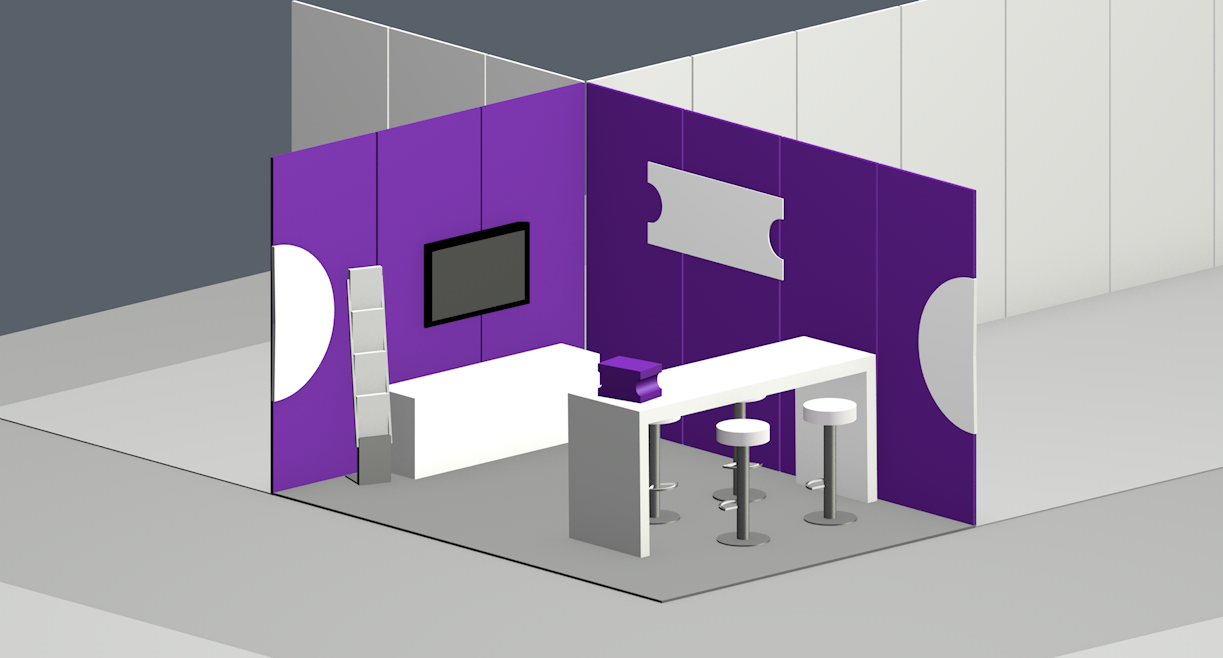 Now, we needed to turn this plan into reality. Not much later, the TV screen in the back was cut out and replaced by a printing on the wall for budget reasons; renting a large TV screen is really expensive. We then settled for a bar stool model by en.casa and a very useful, foldable brochure display stand. The sideboard in the back is from IKEA's BESTÅ series. We bought all of these furniture ourselves, partially because it was even cheaper than to rent them, partially because we weren't satisfied with the look of the models available for rent. On the table, we added a small bowl containing Ritter Sport mini chocolate. Only the table itself was rented from an event equipment provider.
We also rented the walls, the carpet, and three spots for lighting from the local booth builder company and hired a painter to paint the walls in purple (RAL 4005, a lighter shade than what we normally use). The white half-circles at the edges were hand-painted by us. The box on the table as well as the large pretix sign at the wall have been handmade by Céline from wood and KAPA, respectively.
Shopping and packing
I rented a large car to drive to Dortmund because there were a multitude of things to bring, from small to large. This, roughly, was my shopping and packing list that might be interesting to you if you ever present at a trade show. It already includes the things we forgot and hastily had to drive to a hardware store for, minutes before it closed ;)
All of the furniture mentioned above
Tools and supplies for assembling furniture etc. (electric drill, paint, brushes, …)
Water (still and sparkling), maybe some juices
Disposable cups, napkins
Chocolate
A trash can that looks nice
Brochures, business cards
Power, network and USB cables in sufficient number and sufficient length
Some office supplies (pens, puncher, stapler, folder, company stamp, envelopes, paper)
Tape (black, white, and double-sided)
Notebooks, tablets, phones, and their chargers
A ticket printer, WiFi access point, Handheld devices, barcode scanner, Raspberry Pi, etc. (see below)
High-quality name tags (I bought these)
A good camera
Regular travelling things (clothes, cosmetics, …)
In the end, the Ford C-Max I rented, was pretty stuffed:
Build-up
I arrived in Dortmund on Monday evening and the trade show started at Wednesday morning. Monday night, we did a short trip to the exhibition hall to see if everything preordered was there (it was). As expected, our booth looked pretty bare at this point: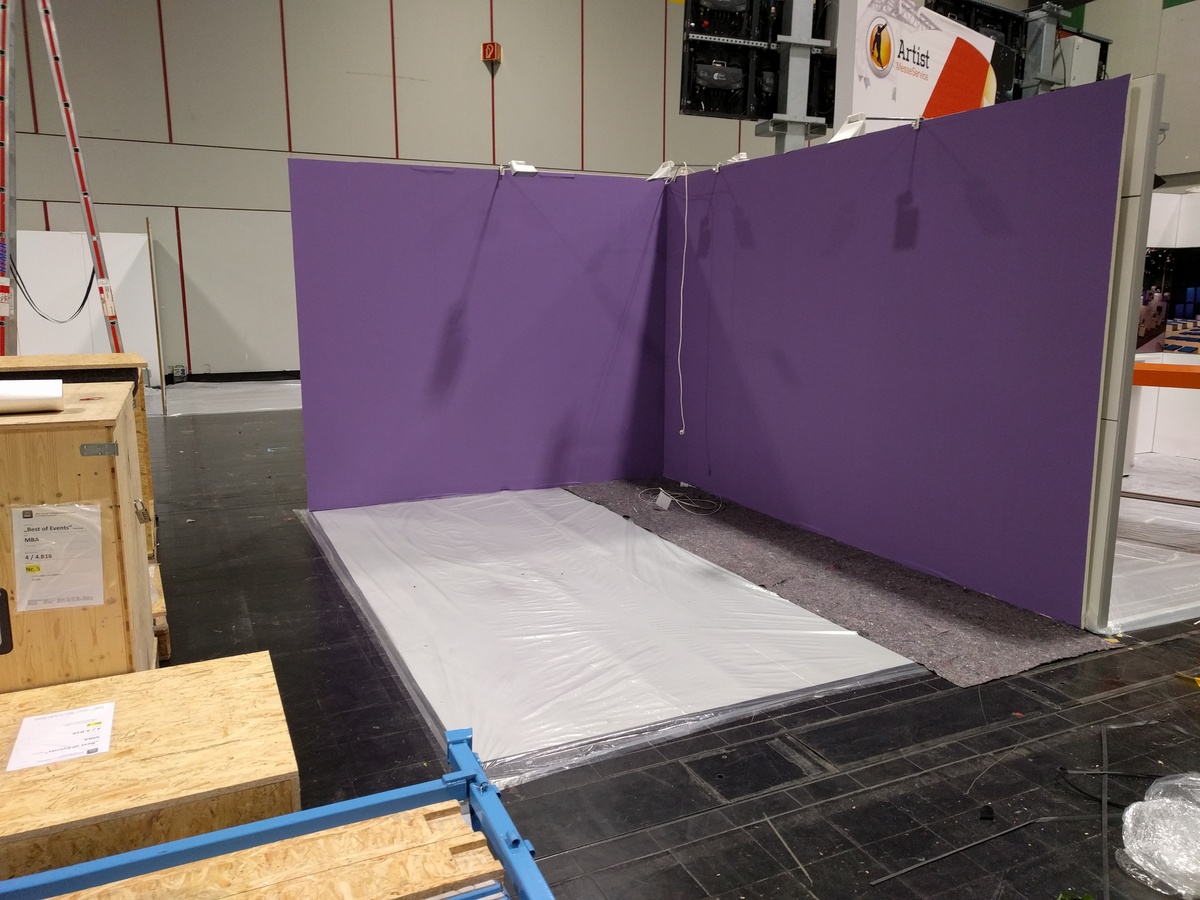 The next morning, we started assembling the furniture, painting the white half-circles on the wall, mounting the large pretix sign and adding icons and text to the wall on the left. We had previously cut these from adhesive foil using a cutting plotter at my local hackerspace. To position them on the wall in their correct positions, we borrowed a video projector to temporarily project it on the wall: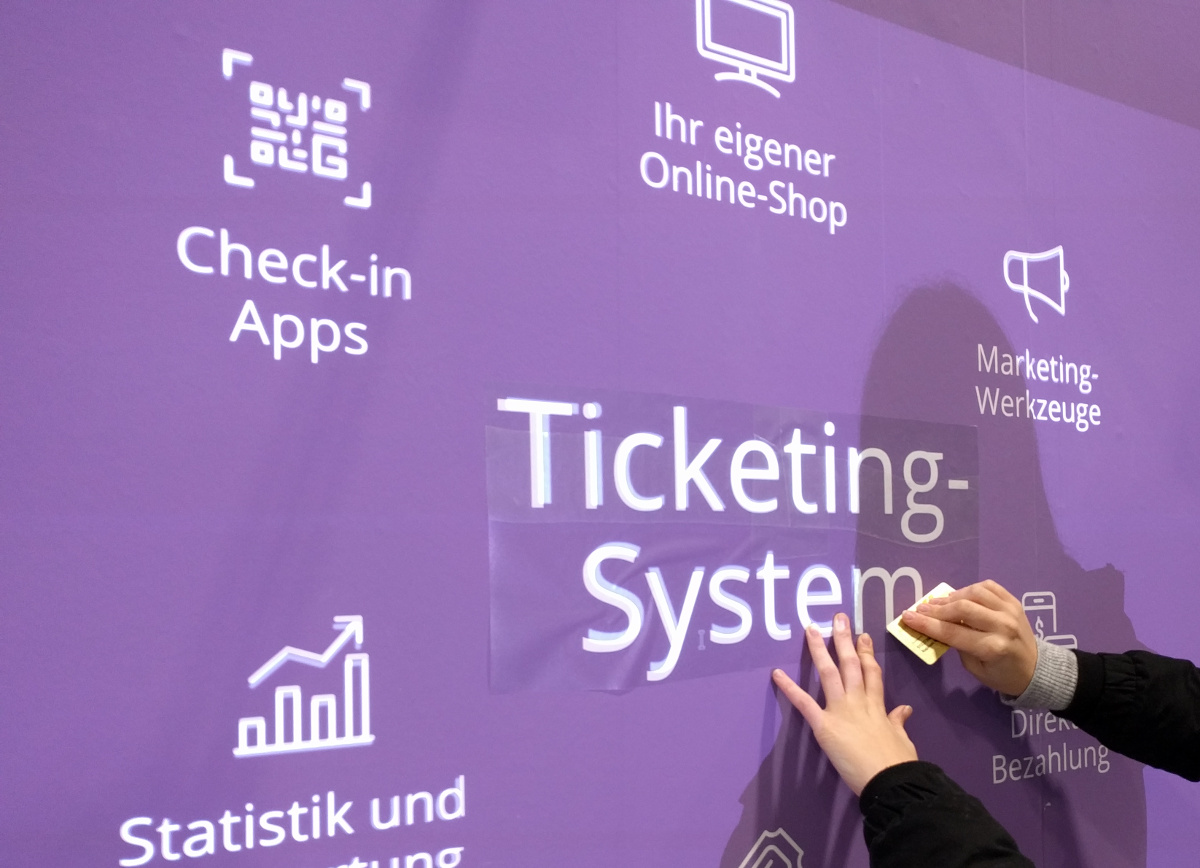 Finally, after 9–10 hours of work, the booth looked surprisingly close to the 3D rendering – but way more real: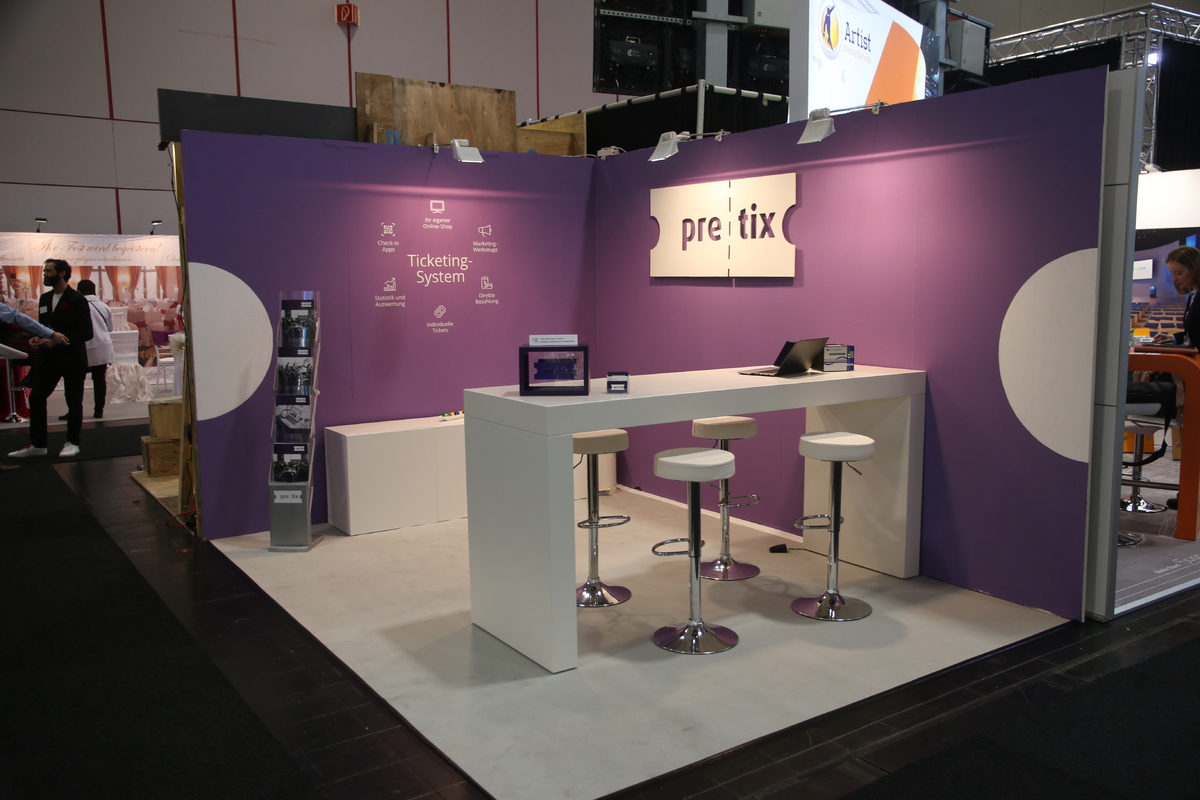 I am more than satisfied with how the booth turned out, as it didn't nearly look as hand-made by first-timers on a budget as we expected ;)
Here's a close-up view of the box: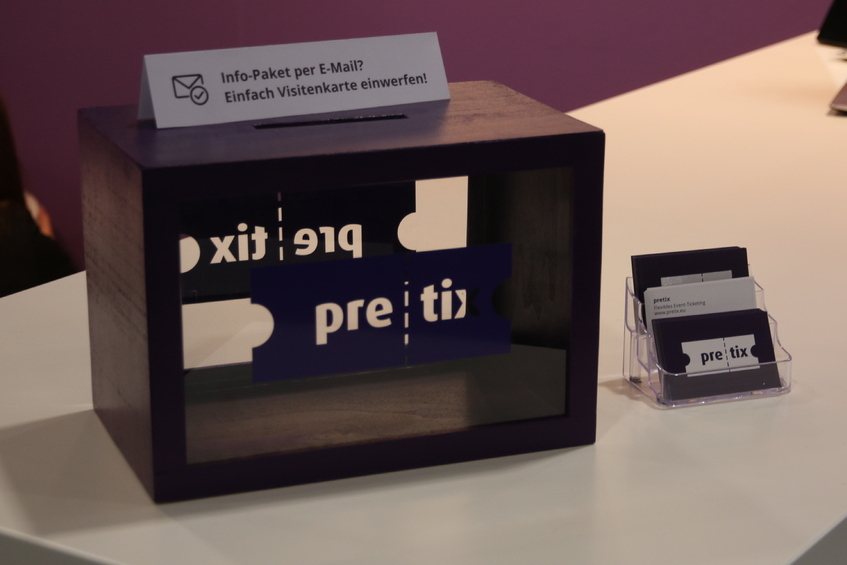 Presentation technology
It is called an exhibition because, well, if you build physical things, you can actually exhibit them there. But how do you exhibit software? This is neither obvious nor trivial.
WiFi connection at fair grounds is notoriously unreliable and a cable connection at the booth is really expensive (multiple hundres of euros for even 1 MBit of bandwith), so I set up a local installation of our pretix software on a Raspberry Pi as well as a local wired and wireless network within our booth using a cheap WiFi access point.
On this pretix server, I configured a ticket shop matching the ticket shop used to sell the entrance tickets to the trade show itself. This turned out to be a great idea as people were able to immediately relate to the situation presented by the software and were instantly capable of comparing it to the systems they know.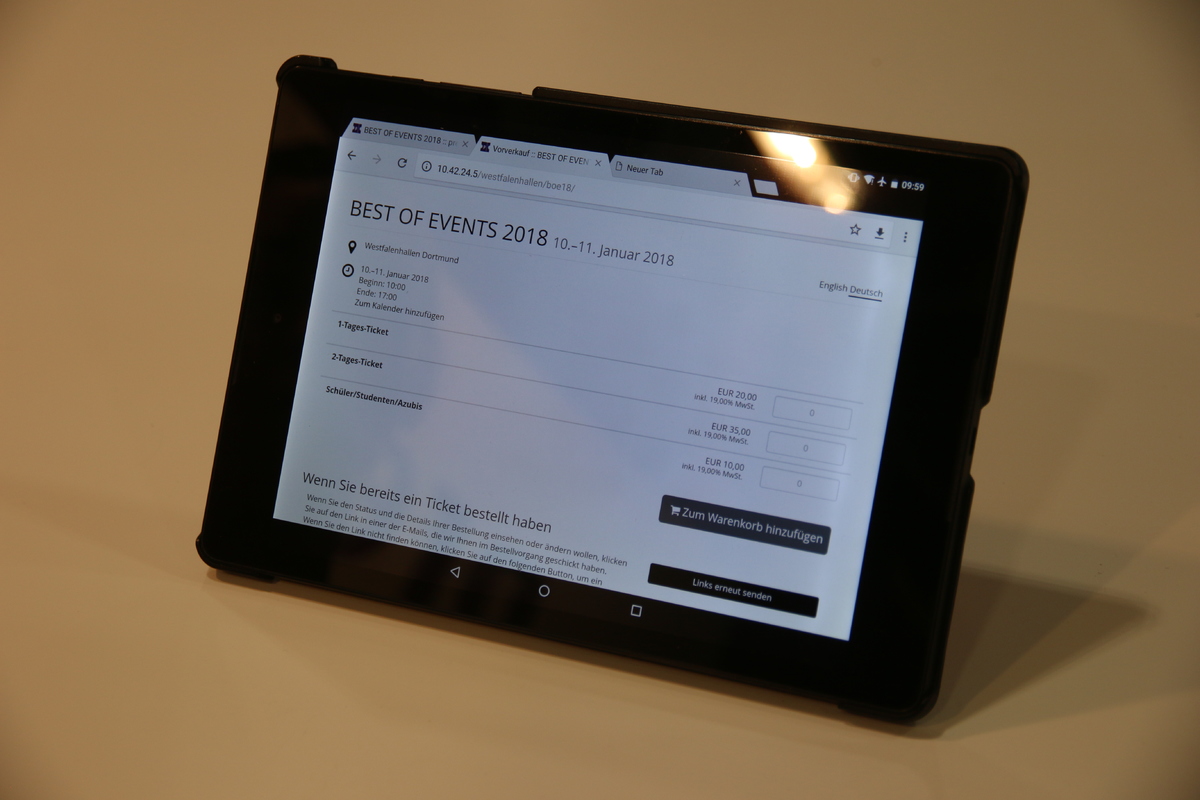 I usually walked them through the checkout experience of the shop and explained for the various steps how it can be customized etc. Afterwards, I showed them the backend with it's live data acess and numerous configuration options.
We also brought a ticket printer that instantly printed out every ticket bought in our demo shop on high-quality ticket paper: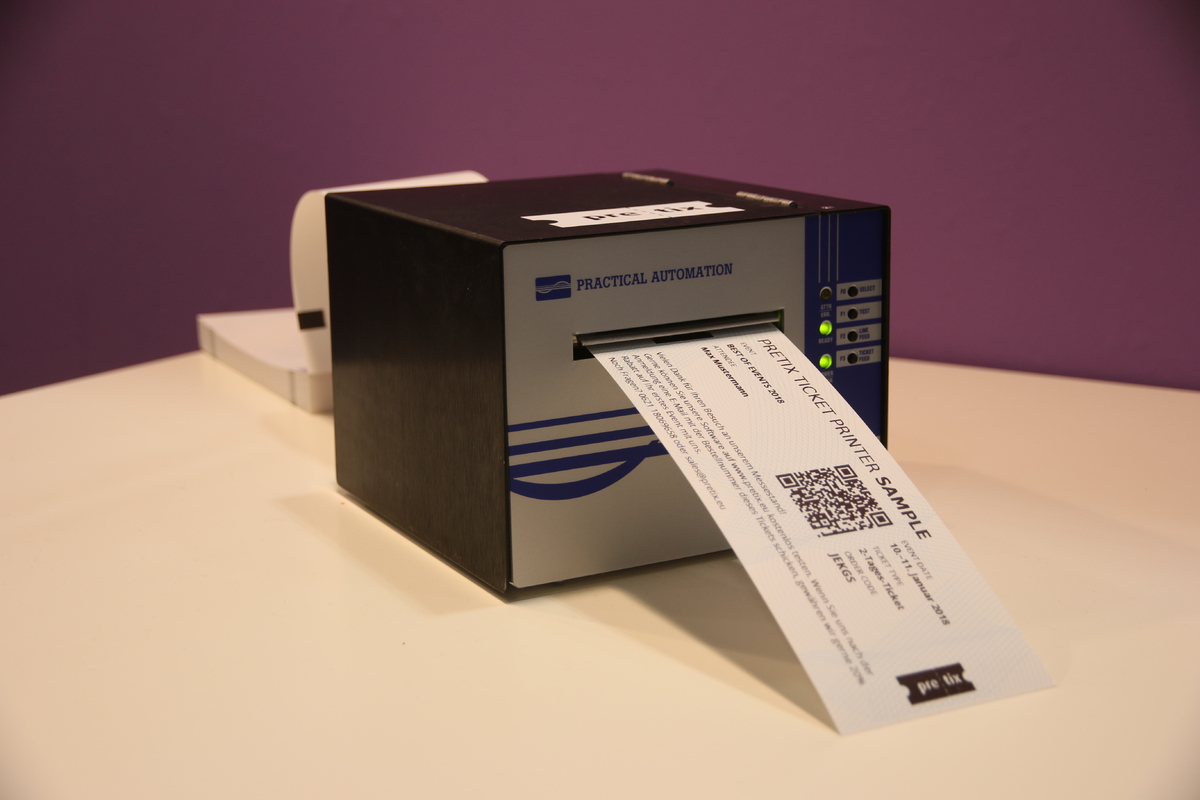 I liked a lot that this way the check-out had a "physical" result that could be handed out to the visitors, I believe the software felt more "real" this way. Also, with the printed ticket we were able to continue with demonstrating the capabilities of our scanning apps pretixdesk and pretixdroid using an USB barcode scanner attached to a notebook as well as with an Android device featuring a hardware barcode scanner.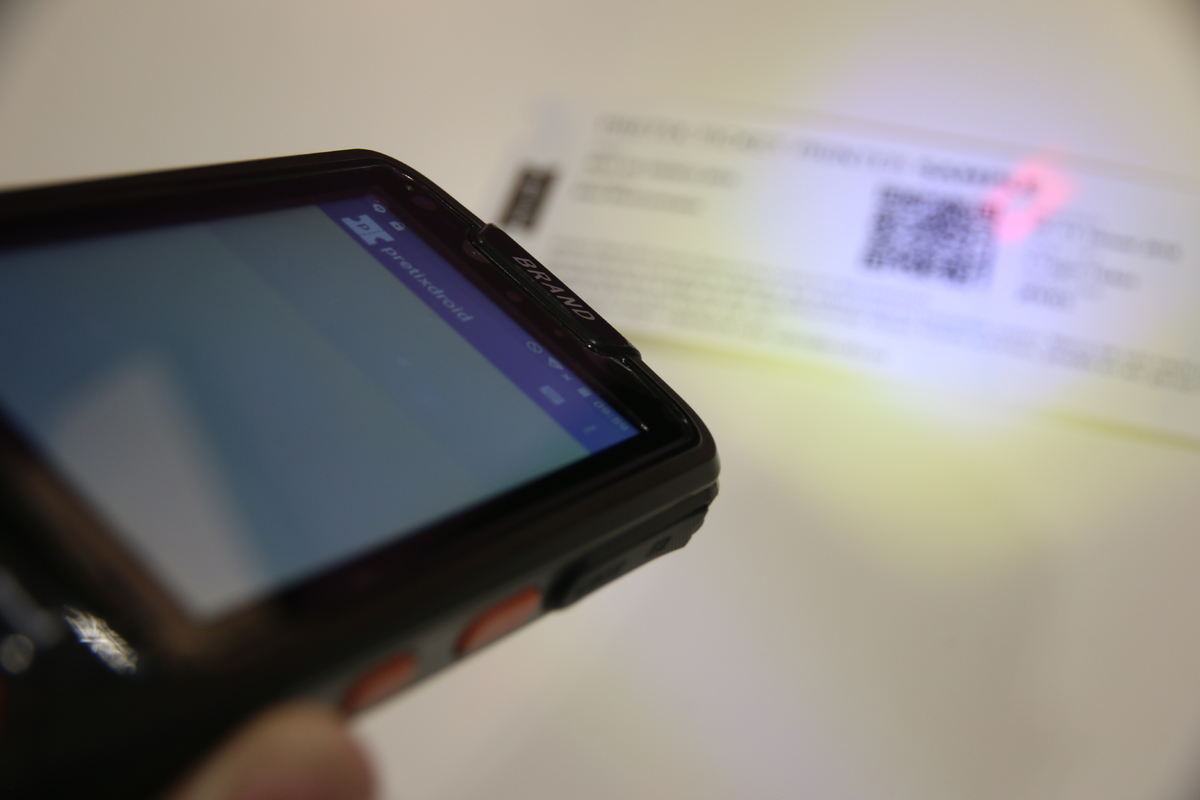 I also wanted to be able to demonstrate the ticket printer without having to go through the full check-out process. Therefore, I bought an USB foot pedal and attached it to our Raspberry Pi and wrote a small service that triggered a ticket to be printed whenever the foot pedal was pressed. We didn't use it much, but when we did, it created a wonderful feeling of magic being at work ;)

Finances
Trade shows are an inherently expensive undertaking. At this show, we've been able to get away with a budget that is really small for a trade fair booth, but still a lot of money for us. To give you an insight, I want to share some numbers here. Note however, that they are very rough and not accurate, as we got some friendly discounts etc. and not all suppliers would be happy if I shared exactly what they charged us.
The general budget for this fair looked like this (figures excluding VAT):
| Position | Amount |
| --- | --- |
| Floor space, power and fixed rates | 2 600 € |
| Walls, painting, carpet, lighting, table | 750 € |
| Printings (business cards, brochures) | 420 € |
| Car rental (incl. fuel) and parking | 340 € |
| Bar stools, IKEA board | 220 € |
| Adhesive foil (leftovers donated to RZL) | 120 € |
| Brochure display stand | 110 € |
| Water, chocolate and office supplies | 70 € |
| Material and tools | 60 € |
| Insurance | 50 € |
| Cleaning | 40 € |
| Access Point, foot pedal | 30 € |
| Sum | approx. 4 800 € |
There is no way to already state whether this way actually worth it. The trade show certainly put us in contact with a number of prospective customers, but it's a long way to go until they actually are our customers. But even if only very few of these leads might turn into an actual sale, it's probably going to be worth it in the long term, so I at least currently have a very good feeling about these spendings.
Lessons learned
Never try to do a trade show booth on your own. I'm so glad that I didn't, as you need someone to represent you while you are taking a break, walking around and talking to other exhibitors, or just when multiple people approach the booth at the same time.

The contact with all our neighbored exhibitors was incredibly friendly from build-up to the end. They offered us coffee, we offered them chocolate, it was no trouble to borrow some tape and in the evenings, when the hall was less crowded, we exchanged tips and talked. Thank you for creating such a nice atmosphere!

I was glad it was a two-day fair as it always takes me a couple of hours to get in the required mood to be able to sell my product well. Also, we actively iterated on what we told people and how we presented pretix with every customer, which was very helpful.

The box "drop your card here for more information" did work somehow, it was used by some people in a hurry or when both of us currently talked to a prospective customer and a third visitor approached the booth.

Some of our competitors also exhibited in hall 4 ("technology") like us while others exhibited in hall 7 ("services"). Hall 7 was generally more crowded as it offered more colorful and exciting things to see, but at the same time was louder and harder to get attention it. I'm not sure what the best decision is here – we might need to actually try the difference out ourselves.

You need to print brochures, people actually do take them and ask for them. However, don't print too many. I was having great trouble estimating the amount needed and printed 3.000 brochures in total (with three different contents). 500 of each would have sufficed just as much, and even 200 of each would have worked. Printing is not that expensive and most of them will still be valid at the next events, so it's just a matter of storage capacity and transport (paper is heavy!), but I won't overdo it by this much again.
I've got some more funny stories to tell that are better told in person. I hope I was able to provide you with some insight into how it feels to exhibit at a trade show for the first time and what kind of preparations it involves. If you want to meet us on a trade show, we already booked a booth for LOCATIONS Rhein-Neckar in Mannheim on 27th of February, 2018.
After those two trade shows, we'll try to evaluate if it is a marketing and sales channel that we want to continue to invest in. Let me know if you have questions on any of this, I'd be happy to answer them!
If you run any kind of events, conferences, concerts–or even trade shows, please talk to us at sales@pretix.eu! I'm pretty sure our ticketing solution will help you to save cost and simplify your processes.